Danish high quality slats
Our aim is to produce and supply high-quality concrete elements that satisfy the customer's and the project's needs, specifications and requirements. 
The quality of our products must, at minimum, satisfy the applicable standards and certifications. To maintain high uniform quality, we have daily internal inspection of the production processes for concrete, mould setup, casting and the finished elements, with keen focus on height measurement and precision.
This results in few readjustments and faster installation. 
Quality guarantee
Production is 3rd-party monitored by Dancert (1073) (certification body of the Danish Technological Institute), which ensures regular verification and inspection of raw materials, suppliers of raw materials and the finished products.
Members of Dansk Spaltegulvskontrol (DSK)
We are also affiliated with the certification body Dansk SpaltegulvsKontrol (DSK), which was established at the initiative of slatted floor manufacturers in cooperation with agricultural organisations.
This is your guarantee that we live up to applicable Danish animal-welfare and concrete-technology requirements.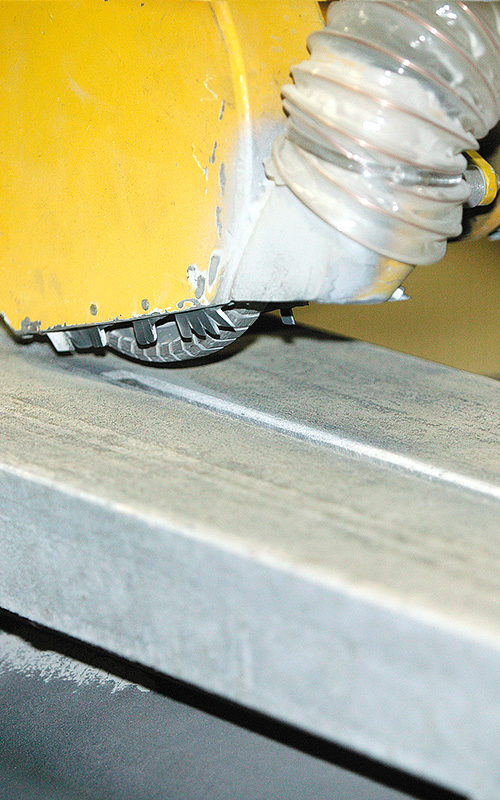 Quality basis
Production has the following certification, which forms the basis for the high quality of our products.
DS/EN 206-1 Specification, properties, production and compliance.
DS 2426 Concrete – Materials – Rules for use of EN 206-1 in Denmark.
DS/EN 13369 General rules for prefabricated concrete products.
SS-EN 13369 Nordcert certificate for concrete elements, product group B.
EN ISO 3834-4 Welding quality requirements.
Certificates with CE marking
DS/EN 12737 Precast concrete products – Floor slats for livestock
Floors
We have developed a unique production method for our floors that creates optimal and compact surfaces with rounded and ground edges. This creates better welfare for the individual animal while preventing many injuries to hoofs, legs and udders. Our precise placement of each reinforcing rod ensures a stable structure of each slat – your guarantee of a strong and safe quality product.
Protect the environment
We have developed our scraper flooring in close collaboration with the Danish Agricultural Advisory Service (DLBR) – in the objective of, among other things, achieving documented lower ammonia evaporation than with similar flooring systems.
In that way, you protect the environment, which is very important when applying for environmental approval for business expansion.
In collaboration with DSK, we have produced a sign with safety information and recommendations for driving on slats, that you can put on the walls in your barns. 
You can order the sign by e-mailing agro@ibf.dk.
The sign is available in A3 (29.7×42 cm) or A2 (42×59.4 cm).